Weekly DfE Publications - W/C 15 Jan 2018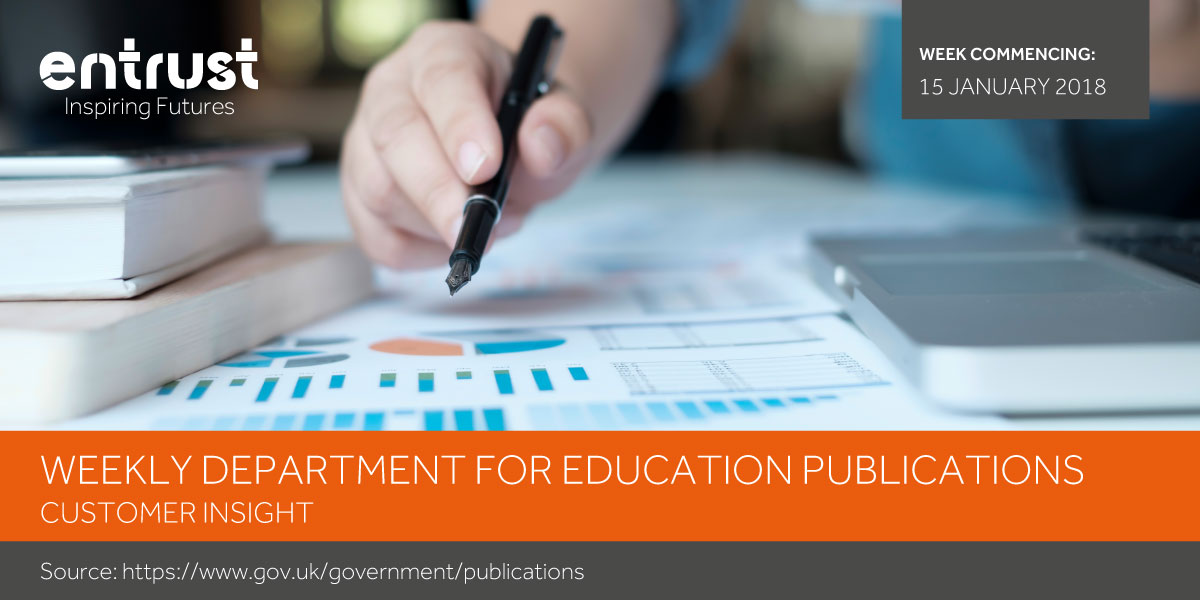 16 January 2018
EYFS staff:child ratios - DfE approved qualifications
Early years providers can use these early years qualifications lists to:
17 January 2018
Information on the government's policy to help remove unnecessary workload for teachers.
The reducing teacher workload action plan sets out the steps to be taken following the findings from the teacher workload survey 2016.
We developed the DfE protocol in response to the 2014 workload challenge survey. It sets out our commitment to:
introduce minimum lead-in times (the times schools have to prepare for the changes they need to make) for significant changes to accountability, the curriculum or qualifications
do more to consider the workload of staff in schools when introducing such changes
18 January 2018
Developing character skills in schools
Reports on the number of schools that offer specific activities to support development of desirable character traits and skills.
Searching, screening and confiscation at school
This is for:
school leaders
school staff
governing bodies
local authorities
It applies to:
local-authority-maintained schools
academies and free schools
pupil referral units (these provide education for children who can't go to a mainstream school)
non-maintained special schools (for children with special educational needs that the Secretary of State for Education has approved under section 342 of the Education Act 1996)
The guidance covers:
powers to search without consent
prohibited items schools can search for
powers to confiscate items found during searches
'Local authorities seeking proposers' contains details of all local authorities seeking proposers to establish a new academy or free school.
It includes the:
name of the local authority
location of the new school
phase of education
capacity of the school
sponsor application closing date
link to the local authority specification and application form
'Section 6A approved/under consideration schools' contains details of:
academies and free schools that have approval
free schools that don't have approval yet under the 'academies/free school presumption' section of the Education and Inspections Act 2006
It includes the:
date of decision
name of the local authority
proposed location of the school at the time of approval
phase of education
proposed opening date at the time of approval (which can change)
19 January 2018
Social mobility and opportunity areas
Delivery plans for the 12 opportunity areas, and the methodology and data used to select them.