Clerking Development Programme
Professional clerking provides an invaluable contribution in meeting the administrative and procedural requirements of Governing Boards and enabling Governance Leaders to carry out their roles efficiently and effectively.
Programme Delivery
Our innovative, national, web-based programme is designed to facilitate increased clerking expertise with clear direction and support.
Online delivery means that the programme can be completed anytime and anywhere there is an internet connection.
Our flexible programme enables you to follow your own development route, selecting the right type of support for you. It is recommended that you complete the programme over two to three terms.
Benefit from real-time and valuable evidence for Ofsted linked to the DfE Clerking Competency framework.
Fully funded by the DfE so completely free of charge to you and your school.
Eligibility and Cost
All maintained school, academy or trust board clerks, including new clerks, who are currently supporting one or more boards.
The DfE is funding this programme, covering the full £350 cost for each eligible participant.
Therefore this is free to you and your school.
If you have completed the funded programme, or are not eligible, please see the option below.
What the programme includes
Online self-evaluation (1-2 hours)
Development planning (1 hour)
Initial mentor call (45 mins)
Training (up to 5 hours in bitesize chunks)
Final mentor call (45 mins)
Re-evaluation (1-2 hours)
Access to GovernorConnect, GovernorRecruit and monthly thought leadership pieces
Programme details
Self Evaluation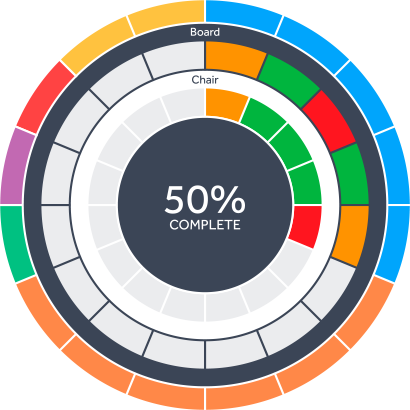 The self-evaluation tool, based on the DfE Clerking Competency Framework, is easy to use and can be completed at a time and place that suits you. The GovernorSpace clerking self-evaluation tool allows you to clearly identify strengths and areas for development that feed into your Clerking Development plan.
The self-evaluation uses a simple RAG rating. The RAG system is a popular method of rating for issues or status reports, based on Red, Amber and Green colours used in a traffic light rating system. It's a way of tracking progress and seeking support and guidance from sponsors and senior stakeholders.
The self-evaluation will be completed by you, with reference to your Governance Leaders, to give you an objective view of how to further develop your knowledge and skills. This will provide the basis for you to complete a Clerking Development plan, identifying key actions, professional development activities and success criteria.
Mentor Support
To help you, we will assign you an expert Clerking Mentor to support you in the development planning process, identifying success criteria and development activities. You will receive two one-to-one telephone mentoring sessions from one of our trusted experts – many of whom are national and local leaders of education and/or governance and who can evidence the impact they have in schools. They will support you in effectively developing your board.
Professional Development - Online Training
To provide flexibility you will receive 5 credits to use on development activities including online training and mentoring. Find out more about the credit system and development activities on our Training page.
All training is linked to the DfE Clerking Competency Framework and these sessions will support you to achieve your Development plan objectives.
Final Mentor Call – Evidencing Development
When training and development activities have taken place, you and your assigned Mentor will review progress against your Development plan to provide evidence of improvement and impact. The process concludes with a second self-evaluation, evidencing development in Clerking over time and highlighting any remaining development needs.
Benefits
Can be completed anytime and anywhere there's an internet connection – whether that's from your school building or from the comfort of your home.
A flexible programme that provides a tailored service enabling you to follow your own development route and evidence your progress over time.
Provides real-time and valuable evidence for Ofsted linked to the DfE Clerking Competency Framework.
High quality self-evaluation tool which is easy-to-use and self-navigate.
Access one-to-one mentor support from trusted experts with extensive experience in school governance and clerking.
Access additional resources, templates and thought leadership pieces.
Facilitate peer-to-peer support through GovernorConnect.
Outcomes
Taking two to three terms to complete, GovernorSpace will become a key driver for change, creating vital networks of support and promoting long-term development for both you and your school.
Expected outcomes:
Increased Clerking expertise in line with the DfE Clerking Competency Framework.
Greater involvement by clerks in sustainable and relevant peer-to-peer support networks.
Drive change to increase Clerking knowledge and skills across the four competency areas to support Governing Boards in focusing on their strategic responsibilities.
Build capacity for Clerks to improve their knowledge and skills to support Governing Boards in fulfilling the three core functions of governance efficiently and effectively.
ClerkSpacePlus
The Clerking Development Programme can be purchased as ClerkSpacePlus.
ClerkSpacePlus includes:
- Access to all of the recorded training titles with one new training title added each term.
- Email advice and guidance provided by experienced Governance professionals.
- Access to the premium resource area containing useful guidance on procedures, forms and templates.
- The new Clerk Information pack at the beginning of each term. This comprehensive booklet contains updates, links and appendices of sample materials, all in one place.
- The option to purchase additional mentoring support.
You will also benefit from continued access to the free online materials including:
- Online Self-Evaluation Tool to support annual self-evaluation.
- Access to monthly thought leadership pieces.
- GovernorConnect and GovernorRecruit to support your boards.
The cost of an annual subscription to ClerkSpacePlus is £64.
To purchase ClerkSpacePlus click click here